---
With a new winder and an automatic reel transport, Papiermaschine 4, which was rebuilt in 2020, can now further increase its performance curve.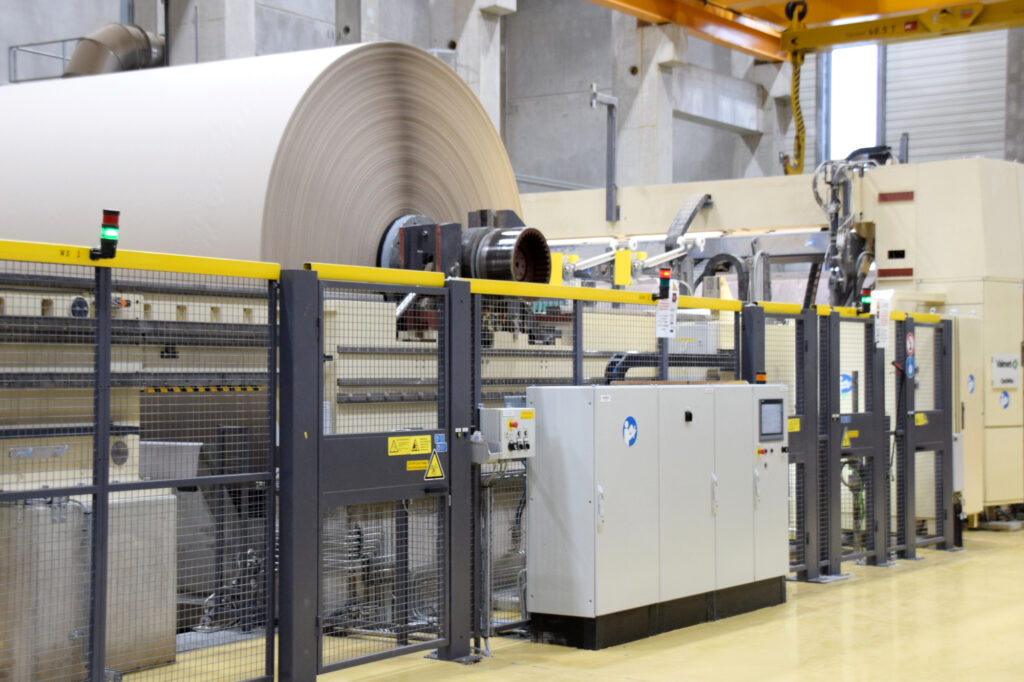 The system from the manufacturer Valmet that has now been commissioned comprises a two-drum winder with transfer rails and turntable for reel transport. With a net web width of 5,300 mm, the winder is designed for use with recycled liner types with a basis weight of 100 – 280 g/m2. The maximum production speed is 2,700 m/min. The line is equipped with a dual unwind system. This feature makes it possible to significantly reduce makeready times and thus contributes significantly to a higher performance of the winder.
As a result, the winder capacity of the line is now fit for the further increasing production output of Papiermaschine 4 (PM4). After the rebuild in 2020, PM4 will offer increased production capacity for the established grades Jade White Classic and Jade Kraft within the scope of PKV's overall approval.
Here you can see around 12 months of construction and assembly in a time-lapse video:
The Papier- und Kartonfabrik Varel (PKV) will further develop the mill to a production capacity of one million tonnes of corrugated board papers as well as cardboard in the coming years. The raw material for this will remain – as it has since 1950 – recycled waste paper. At the same time, PKV continues to improve its energy efficiency through numerous investments. To strengthen and modernise the site, the company is currently implementing a seven-year strategy programme with a total volume of about 280 million euros. PKV has invested around 60 million euros of this in the now completed modernisation of line 4 (Papiermaschine 4 and associated equipment), which alone has improved the line's capacity by around 60,000 tonnes per year.
We would like to thank these companies (the main ones involved in the project) for the good cooperation:
Actemium Cegelec GmbH, Frankfurt am Main
AFRY Deutschland GmbH, Dresden
Aarsleff Grundbau GmbH, Hamburg
Bassenberg & Schwarting, Rodenkirchen
Butting Anlagenbau GmbH & Co. KG, Schwedt/Oder
Carstens Maschinenbau GmbH, Varel
C-En Dr.-Ing. Carsten Buchtmann, Georgsmarienhütte
CM-Montage GmbH, Hopsten
Core Link AB, Falkenberg (Schweden)
Dr. Ecklebe GmbH, Wernigerode
E. u. H. Brunken GmbH & Co.KG, Varel
Ingenieurbüro Etzweiler, Köln
Dipl.-Ing. Hartmut Fangmann, Varel
Fortwengel GmbH, Dörpen
GEOdEX Ing. Büro für Umweltplanung, Neustadt am Rübenberge
Harms Heizung GmbH, Varel
Jürgen Hellmann GmbH, Oldenburg
IFÜREL Automation GmbH, Lünen
Isoliertechnik GmbH Oberhausen, Oberhausen
Jagenberg Paper Systems GmbH, Krefeld
KBS Kernbohr Service GmbH, Rastede
Brandschutz Keuchel, Neuss
Kirchner Stahlbau GmbH, Wardenburg
C. Labes GmbH, Varel
Langer E-Technik GmbH, Varel
Max Bögl Fertigteilwerke GmbH&Co.KG, Liebenau
Minimax GmbH, Achim
MSB, Maschinen-u.Stahlbau GmbH&CoKG, Düren
Nyblad Maschinen- und Anlagenbau, Papenburg
p+p project automation ag, Schindellegi (Schweiz)
Procemex Ltd., Jyfäskylä (Finnland)
Rova-Mix Transportbeton + Mörtel, Varel
Artur Scheffczik, Osnabrück
Siemens Energy Global GmbH & Co.KG, Stuttgart
Steenhoff GmbH & Co. KG, Rhauderfehn
Stöbich Brandschutz GmbH, Goslar
Wilhelm Meyer GmbH & Co. KG, Varel
Tischlerei Gerdes GmbH & Co. KG, Jade
Ulferts GmbH, Moormerland
Valmet Technology Oy, Espoo (Finnland)
Valmet GmbH, Darmstadt
Waerag Planungsgesellschaft m.b.H, Wien (Österreich)
E&E Wiggers Bedachungen GmbH, Stadland
---