November 15th, 2019
PKV increases production and reduces CO2 emissions: One million tonnes for sustainable packaging
---
With an ongoing multi-year strategy program, Papier- und Kartonfabrik Varel continues to develop its mill. The focus is on investments in quality and energy efficiency as well as meeting the growing demand for sustainable packaging.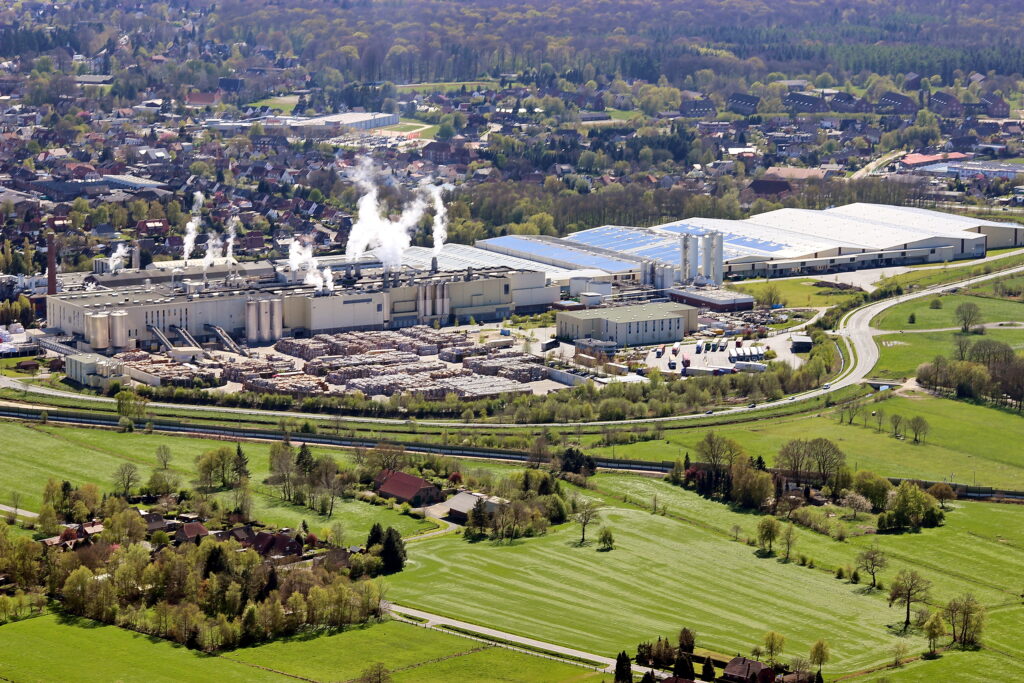 The Papier- und Kartonfabrik Varel (PKV) will develop its mill to a production capacity of one million tons of corrugated board papers as well as cardboard in the coming years. The raw material is and remains recycled waste paper. At the same time, PKV is investing massively in energy efficiency. To strengthen and modernize the site, the company is currently implementing a seven-year strategy program with a total volume of around 280 million euros.
PKV not only invests in increasing production volumes and thus in the growing market for sustainable and environmentally friendly packaging, but also continuously improves the quality of its products, the energy efficiency of its plants and the flexible and reliable supply of its customers. In the future, PKV will continue to produce corrugated board papers as well as cardboard in a very wide range. "This allows us to offer our customers and partners in the packaging industry a product diversity that hardly any other single location in our industry can provide," says shareholder Kristian Evers.
The first parts of this programme have already been implemented, such as the construction of a plant for processing plastic components from the recycled waste paper and the construction of two new logistics halls. Further important steps will follow in the coming months and years. A milestone in the coming year will be the rebuild of the wire and press section of paper machine 4, which will both increase PKV's production capacity of the established JadeWhite Classic and JadeKraft grades (from 300,000 to 360,000 tonnes in total) and improve energy efficiency. For this purpose, the machine will be parked for about five weeks starting in February 2020. PKV closely coordinates any necessary pre-production with its customers.
As part of the program, PKV is also modernizing and expanding its cartonboard production, process water treatment plant and power plant (construction planned to start in Q2 2020), continuously developing all facilities and processes towards increasing production capacity by around 18 percent to one million tons. The proven split of 70 percent paper and 30 percent cartonboard production will remain in place in the future.
At the same time, PKV continues to invest with conviction and vigour in the conservation of natural resources. The energy consumption per ton, which has already been reduced by more than 24 percent since 2000, and thus the CO2 emissions, are to be reduced by a further 23 percent in the coming years.
What do citizens in the region around Varel gain from this?
PKV is making a massive investment in its competitive strength here, and the programme is a clear commitment to the Varel site and to local jobs.
What do the investments mean for PKV's water consumption and for emissions such as noise and odour?
Despite growing production, PKV will continue to make do with the approved amount of water and is constantly investing in even more efficient cascading and multiple use of this valuable resource. In terms of both noise and odour, PKV will be better than it is today once all the measures have been completed. Investments in noise protection and new equipment in production and process water treatment are essential steps here. Because only those who are allowed to change and innovate can improve things in the future.
What role does the planned sports park in Langendamm play in this strategic programme?
As a result of investments on its own premises, PKV could lose logistics space in the medium term (in a few years' time) and have to add to it in the vicinity of the plant. In principle, areas directly on Hellmut-Barthel-Strasse would be interesting for this. In no case would production facilities be built here, but for example storage areas and halls. PKV sees problematic points in the previous planning of the sports park in Langendamm with regard to these areas, the traffic density at the intersections and the odour situation. Alternatives are currently being discussed here.
---