Logistics to the point.
Information for drivers
Access is via Gate 1 only, where you will find the registration desk,
access to the site, sufficient parking space, a canteen and sanitary facilities.
Self-service terminals are available for registration and registration of the trucks. The following documents are required: Identity card, truck loading/unloading number and, in the case of containers, the container number. Mix deliveries must be registered directly with the gatekeeper. The loading area/container must be clean, dry, undamaged and level, and the tarpaulin must be absolutely watertight. This will be verified by us. Failure to do so may result in the truck/container being rejected.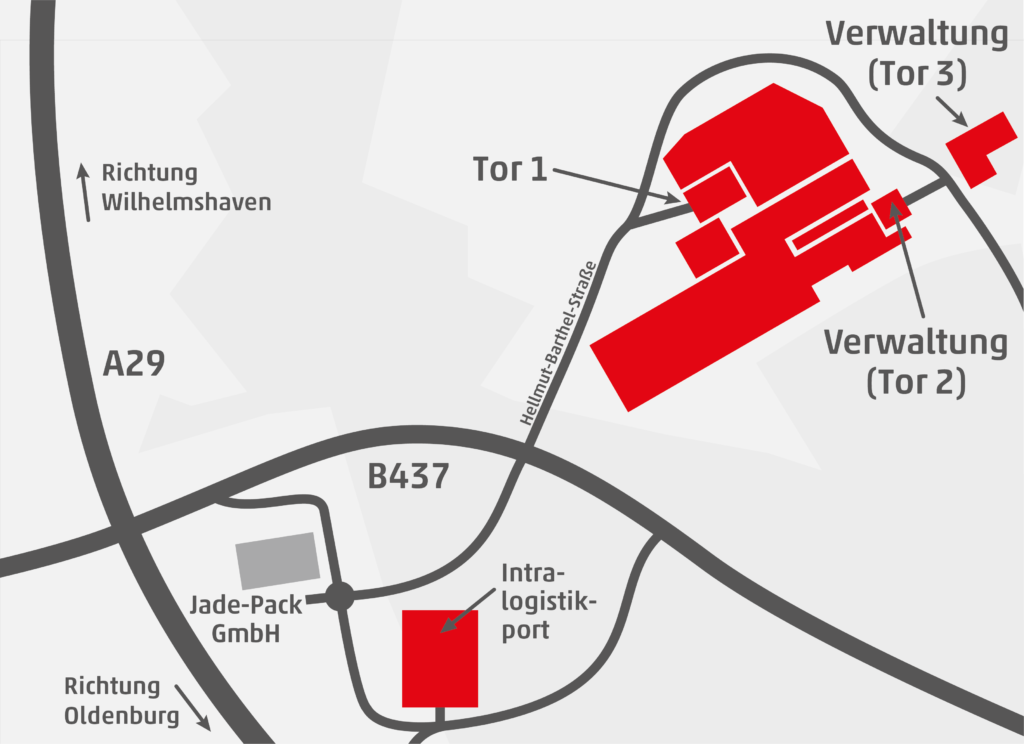 Cargo handling
1. Register on arrival at Gate 1 (truck with loading or unloading number and container with container number at the terminal)
2. Vehicle registration number is called up via the display panel in the truck parking area
3. Drive onto the scale and scan the ticket. The consignment note with the unloading point is created.
4. When loading, drive to the loading place, open tarpaulin/container and provide load securing material (walking floor: let goods run off independently and hand in papers to the gatekeeper)
When unloading, drive to the unloading point and release load securing material.
The instructions of our shipping personnel must be followed. The white marked loading zone of the loading area may only be left in an emergency, non-compliance may result in a ban from the area.
Load securing
The following load securing materials must be on board as a minimum:
18 tested lashing straps and long lever ratchets LC 2,500 daN/ST F=500 daN
20 faultless and tested anti-slip mats (min. 1,000 x 150mm)
36 approved edge protectors
2 headbands
If the load securing material is insufficient or not in perfect condition, we will provide and invoice replacements.
Our service for truck drivers


The canteen offers daily changing dishes and fresh bread rolls.
| | |
| --- | --- |
| Open: Monday – Friday | 06.30 till 14.00 |
| Lunch: Monday – Friday | 12.00 till 14.00 |
Vending machines are available beyond the opening hours.
The sanitary facilities with shower are located in the porter's building, to the right of the canteen. They are open all the time. Against deposit of the car key the drivers get the key for the free use of the shower.
The Albers truck repair shop is located nearby.
---